Novak Djokovic attended the official draw ceremony at Queen's Park on Friday afternoon. He arrived to Toronto yesterday.
Top seed @DjokerNole to open his @rogerscupto campaign vs. winner of #Stepanek and #Monfils. Draw analysis soon #atp pic.twitter.com/a6bgflYHDS

— ATP World Tour (@ATPWorldTour) August 1, 2014
Nole about his draw: "O my God,guys"…."I'm looking forward to the first match, even though the draw is terrible for me." Laughter. Again.
About hard courts: "Looking at the results throughout my career, hard courts are the most successful and preferred surface for me." "2011 .., going to be very difficult to repeat … but I do have high ambitions."
Djokovic says the last month has been the best of his life. And that he must work on: "… to love my wife, otherwise I'm in trouble."
On Nadal withdrawal: "It was a surprise, to be honest. Knowing Rafa, if he could play, he would. He appreciates this tournament."
Advice for Raonic to get to No. 1: "Don't get there until I'm done playing," he said, grinning.
Description of the draw ceremony by @cathalkelly:
The draw is a tedious process with an even more tedious requirement that its minutiae be explained beforehand. At first, Djokovic is twisting around in his seat, trying to get a look at the projected board behind him. This seems new to him and sort of fun. That will also end.
He and the other top eight seeds are given first-round byes. The moderator calls the first VIP up to the table to begin the process of sorting out the remaining players, based on ranking.
First out of the pot – and the first man into Djokovic's end of the bracket – is Scotsman Andy Murray. Murray's had a dip in form recently, but he's taken four of his past 10 matches against the Serb.
Our picker knows he's screwed this up. He freezes. Djokovic gives him a wolfish leer.
"Thank you very much," he says.
The room howls. Our poor picker is beginning to collapse in on himself.
"It doesn't really matter," Djokovic reassures unreassuringly.
It matters. At least a little.
The second VIP selector cunningly runs in behind the head table so that she can pick while standing directly behind Djokovic. She keeps asking if he minds and he keeps saying "No" and she keeps touching him on the shoulder and I suspect he minds just a little. But he's the one who made the world fall in love with him. So this is his fault.
Now there's a flurry of people picking plastic tabs out of a silver goblet. All of them are putting the absolute screws to Djokovic.
Jo-Wilfried Tsonga ends up in his quarter of the draw.
"Is that okay?" the picker wonders nervously.
"That's fine," Djokovic says. It isn't.
Next guy up pulls another dangerous Frenchman, Gaël Monfils. This will likely be the Serb's first opponent.
Djokovic drops his head onto the table.
"Oh God," he says, "It's getting better and better."
To read more go to: The Globe and Mail
Possible opponents:
1st round: BYE
2nd round: Gael Monfils or Radek Stepanek.
3rd round: Jo-Wilfried Tsonga, Jeremy Chardy
QFs: Andy Murray, Richard Gasquet
Semi-finals: Stanislas Wawrinka (SUI, 3), Grigor Dimitrov (BUL, 7)
Final: Roger Federer, Tomas Berdych, David Ferrer, Milos Raonic
Rafael Nadal pulled out due to wrist injury so he wont be available to defend his title.
Full draw here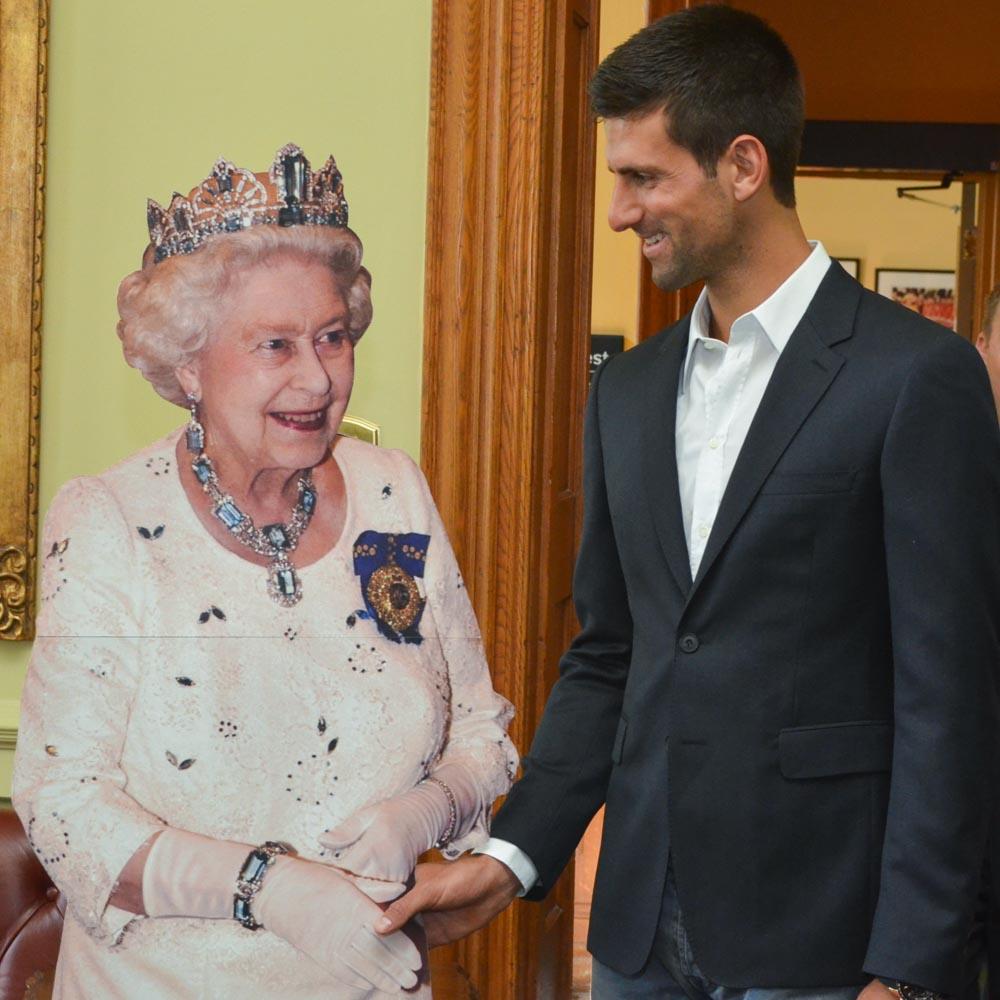 @LGDavidOnley on twitter: Meeting Number 1. #justkidding @DjokerNole #RogersCup #tennis #QueensPark
Delighted to welcome No1 male #tennis player @DjokerNole to #QueensPark for the 2014 #RogersCup draw! @rogerscupto pic.twitter.com/hUxJ6y1enp

— David C. Onley, OOnt (@LGDavidOnley) August 1, 2014
Source: novakdjokovic.com
atpworldtour.com
Quotes from the ceremony: ArashMadami
IanShantz